WOW, WOW, WOW, these two and their families just melt my heart…
With a change of venue four days out from the big day this certainly was a celebration to be enjoyed.  Bella and Pete had a vision from the start and attention to the small details was a must.  De-vine letterpress stationery invited their 200 guests to their nuptials and reception at Mount Ophir Estate, Rutherglen, nestled in the wine region of North East Victoria.
Guests arrived by bus to the lightest sprinkling of rain but you could not dampen the excitement in the air.  Lola and Archibald (fur babies) mingled with the crowd while the violinist played, before the sky cleared and the doors of The Tower opened for Bella and her girls to make their way down the aisle.  Under the canopy of the old gum tree Pete and Bella exchanged their "I do's".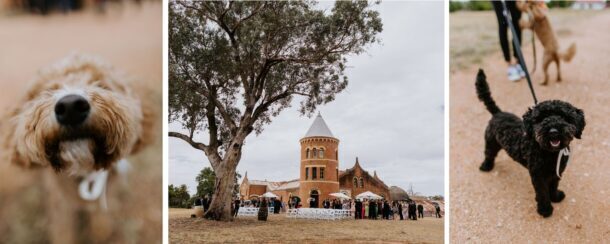 Now it was time to get the party started.  Canapés and cocktails were served on the terrace before guests were seated for an evening of share plate feasting and espresso martinis.  It was a family affair with Bella's aunty of Bridie Bride creating flower magic on the tables (wow, check it out), a family friend making the stunning cake and Uncle Rob, DJ extraordinaire providing the dance floor tunes.  And boy, did they tear up the dance floor.
But the fun didn't stop there, the morning after guests enjoyed egg 'n' bacon rolls and coffee at Parker Pies, if you haven't been, make sure you stop in when visiting Rutherglen.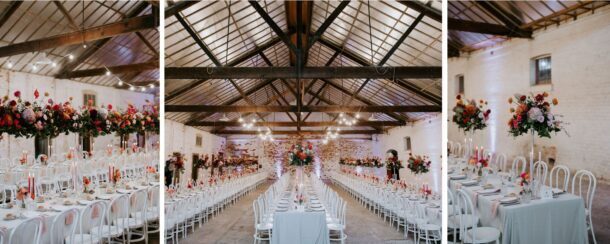 Your speeches bought tears to my eyes, and yes Bella, I 100% agree with Pete, it is perfectly OK to eat Nutella straight from the jar.  Congratulations Mr + Mrs Mayes xoxo.
"Tracey – Pete & I could not be more thank-ful for all you did in creating our wedding day of absolute dreams".
THE TEAM
Planning, styling + co-ordination by us
Captured by Dan Brannan + Tango Films
Vows by Prudence Tackle
Violinist Evangeline Victoria
Saxonist Anton Delecca
DJ Extraordinaire Uncle Rob
Amazing florals by Bridie Bride
Linens by the Bride + Groom
Tables, crockery + cutlery by RBR Partyire
Chairs + glassware by The Table Station
Stationery by D+D Letterpress
Hair by Jack and the Fox
Makeup by Ess by Steph
Catering by Ebden + Olive
Bar service by The Tow Inn
Pet sitting by Furmumma
Bus service Canns
Location Mount Ophir Estate, Rutherglen