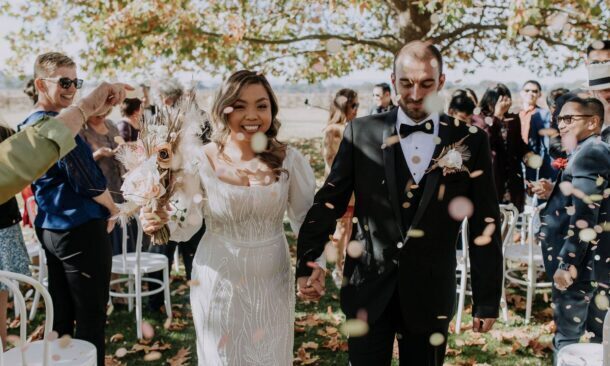 Introducing The Jakobers Wedding at Brown Brothers…  Michelle and Steve wanted an intimate gathering with 50 of their nearest and dearest.  They chose Brown Brothers Winery for it's rustic charm and location, found in the heart if the King Valley, let's face it, who doesn't love a winery wedding.  Nestled under the canopy of The Oak Tree they exchanged their nuptials late morning followed by a lunch reception in the restaurant.   Being the weekend of Mothers Day we had to think a little outside the box with the florals being created the week prior, artificials are amazing these days.  The added bonus of doing it this way is that your bouquet flowers will not wilt during the day and guests have a lasting memory of the day taking home the centre pieces.
The Jakobers wanted to create a take home memory and as a memento guests received a personalised piccolo of Brown Brothers finest along with a custom "The Jakobers" lollipop, the kids especially loved these.  Michelle and Steve put thought into the small details of the day, truly appreciated by their loved ones with love and laughter flowing through the room.
The beauty of having your wedding at Brown Brothers is that everything is with in reach.  There are a few options for your ceremony location, The Oak Tree would be the most popular (and I can see why).  For an intimate reception they have the restaurant, if you are looking at a larger gathering The Barn is amazing. You don't need to travel far in any direction for breath taking photo ops. With accommodation across the road at Lancemore Milawa guests didn't have far to go. On-site at Brown Brothers is the Bridal Cottage, great for the Bride and her tribe.
If you would like to chat how we can help create your day at Browns Brothers hit us up.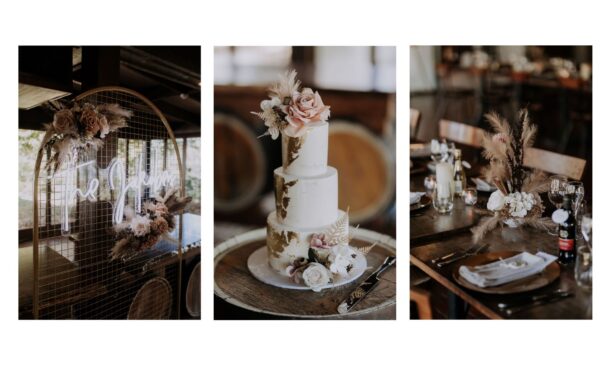 The Team that bought it all together.
Planning, styling and co-ordination – Enhance Styling + Events
Venue, Menu & cake – Brown Brothers Winery
Celebrant – Bruce Kilpatrick
Photographer – White Shutter Photography
Florist – Flower Mill Jindera
Hair – Amanda Bell Hairstylist
Makeup – Coby Fields 
Dress – Rachel Rose Bridal from Penrith Bridal Centre
Tux – Ferrari Formal Wear and Bridal
Lollipops – Loleecious
Bridal jammies – Bride Tribe
Confettis – The Whole Bride
Neon sign – Sketch and Etch
Accommodation – Lancemore Milawa